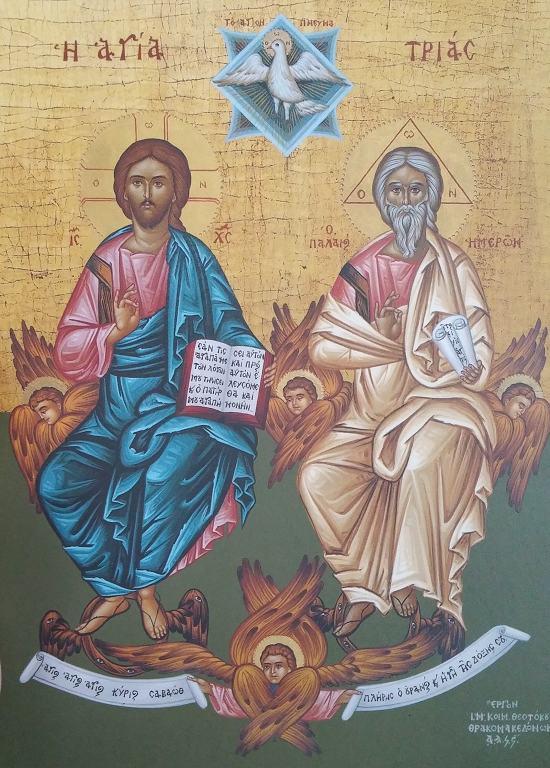 Today's Scripture readings all have the Holy Spirit, as it were, lurking in the background. In the passage from the Acts of the Apostles, Peter and John travel to Samaria so that the Samaritan converts to Christ might receive the Holy Spirit. In the second reading from the letter of Saint Peter, the death of the physical body gives way to the life of the Spirit. Finally, in John's gospel, Jesus promises to send to his disciples an Advocate: the Spirit of truth. We shouldn't be too surprised to see the spotlight turning toward the Holy Spirit because the Church is building our anticipation of the climax of the Resurrection story: the coming of the Holy Spirit at Pentecost which we'll celebrate in a couple of weeks.
As we turn to consider today's gospel, we need some context before we delve any deeper into it. We're at the Last Supper. Jesus has already washed the disciples' feet and has dipped a morsel of food into the salt water and handed it to Judas to signal to John that Judas would be the betrayer. Judas has taken the morsel and left. Jesus then proclaims the manifestation of the glory of God as he says, "Now is the Son of Man glorified." [John 13:31] The last act of the revelation of God's glory in the death and resurrection of his Son has begun. It's only then that Jesus says to his disciples, "I give you a new commandment: love one another. As I have loved you, so you also should love one another." [John 13:34]
The disciples were already familiar with the two great commandments of the Law: to love God and love your neighbor as yourself. What makes Jesus's commandment new? There's a two-pronged realization here: first, the disciples are given a new stipulation to the Covenant between God and humanity, to love one another as Jesus loved. This is not just to love your neighbor as yourself; it's to love your neighbor more than you love yourself. The second revelation in this new commandment is that in loving one another as Jesus loved, we are thereby loving God with all our heart and soul and mind and strength. There are no longer two great commandments, but only one. If we fail to love one another as Jesus loved, then we also fail to love God.
I've given that background so that the passage we read this morning would be clearer. Jesus's discourse at the Last Supper that started in chapter 13 continues all the way through chapter 17, concluding with Jesus's priestly prayer for his disciples and for all who believe in him. The gospel passage today from chapter 13 is part of that larger whole, sometimes called Jesus's last will and testament. Here, he says to them, "If you love me, you will keep my commandments." All that follows in John's gospel is a commentary on the statement: "Love one another as I have loved you." Unlike the Law of Moses, where breaking a commandment led to punishment, keeping Christ's commandment of love leads to the gift of the Spirit. In other words, failure to keep Christ's commandment leads only to staying the way you are, devoid of life and love.
Jesus says that loving one another as he loved us leads to the gift of the Advocate. We might ask, what is an Advocate, and why should we want one? Technically speaking, an advocate is a defense attorney who pleads our cause against an accuser. And who might that accuser be? The Book of Revelation says this: "Now have salvation and power come, and the kingdom of our God and the authority of his Anointed. For the accuser of our brothers is cast out, who accuses them before God day and night." [Revelation 12:10] Isn't the accuser anyone who judges, ridicules, or condemns us for doing the right thing, for loving the unlovable? Isn't the greatest accuser our own warped consciences that fill us with fear and senseless shame and remorse and try to convince us that we're inadequate and unlovable? Yes indeed, we need an Advocate to plead our cause against those voices—including our own guilty consciences—that accuse us falsely and needlessly of sin.
Who is this Advocate that Jesus sends to those who would love as he loved? It is "the Spirit of truth, whom the world cannot accept because it neither sees nor knows him." It is the Spirit of truth, the Spirit of reality. The accuser would have us remake the world in our own imaginings. It wants us to believe that the world is as we believe it to be, and not what it is. We believe all sorts of bizarre things about our world. It's a dog-eat-dog world. Do unto others as you would have them do unto you but do them first. You only go around once so get yours while the getting is good. They're out to get you, to take your job, to take your guns. There's a sucker born every minute. Need I go on? The Spirit of truth, on the other hand, looks at the world and sees it as it really is: a hoard of humanity crying out to be loved.
Jesus continues instructing his disciples, saying. "In a little while the world will no longer see me, but you will see me because I live and you will live." Can you see him? Can you see the Christ? You needn't look very far. Where you see humility, love, and compassion in action, there he is! We're talking about the Spirit of reality here, and the reality is that life and love are inseparable. Where there is life—the Spirit of truth—there is love. Where there is love, there is abundance of life. Where there is no love, there is only despair, death, and destruction. So, the Spirit of truth is also the Spirit of life and of love.
It's that Holy Spirit of life and of love that unites the Father and the Son and makes them one. "Whoever sees me, sees the Father," [John 14:9] Jesus tells Philip. And "On that day, you will realize that I am in my Father." Because of the nature of God himself, it's not sufficient that the Holy Spirit of life and of love should only empower the Son in the Father and make them one. We, too, are implicated in their loving union when we surrender ourselves to love as Jesus loved. "You are in me," Jesus tells us. Can you appreciate how profound a statement that is? Just try to imagine that the Holy Spirit of life and of love that unites and empowers the Son with the Father is also given to us to unite us with them. We share the life and the love of the Trinity and are one with the Power of God. If we are in Christ and Christ is in God, then God in Christ is also in us. The Word is made flesh…in us and continues the incarnation through all of history in us. Isn't it too much to expect us to be Jesus in the world as it is today? We're frightened, weak, self-centered souls barely making it in this vale of tears. Oh? Is that what your heart is telling you? Is that what you believe? My friends, if it is, then you're listening to the voice of the accuser, rather than that of your Advocate, because the Advocate, the Spirit of truth and reality, knows differently. Your Advocate pleads your cause—the cause of the real you—the cause of the Christ who lives in you and empowers you. Listen to that Spirit. "I will not leave you orphans," Jesus said to his disciples and to us. On this day, may you realize that Christ is in the Father, and you are in Christ, and Christ is in you. There you'll find the source and the power of your love.
---
Get articles from H. Les Brown delivered to your email inbox.
---